How to run Stable Diffusion using DreamStudio or Hugging Face
20 Jun, 2022
Stable Diffusion is a text-to-image or image-to-image model. As in other generative models, you define the input such as a text prompt or description, and get an image as an output. Stable Diffusion is an excellent alternative to other generative tools like MidJourney and DALLE-2 because you can easily import an image or sketch as an input and get a customized variation of it. One of the great things about this tool is that you can run it using services such as Dream Studio, or Hugging Face.
If you want to know how to run the Stable Diffusion model without hassle, go ahead and check these two options:
DreamStudio from StabilityAI
Hugging Face space
DiffusionBee
RenderAI
DreamStudio from StabilityAI
Dream Studio provides a convenient and user-friendly interface for running Stable Diffusion. You can generate images based on text prompts or descriptions but also you can upload your own image or sketch to render with AI.
Some of the features included in DreamStudio:
History. Keep track of everything you've created
Multi-generations. Explore different creative variations of your image simultaneously
Styles. Different style presets
Canvas. An infinite workspace for endless ideas
Upscaling. Enhance and upscale the resolutions of your imagery in seconds
Masking. Remove elements from your image and edit with inpainting
Layers. Make more of your creative workflows with layers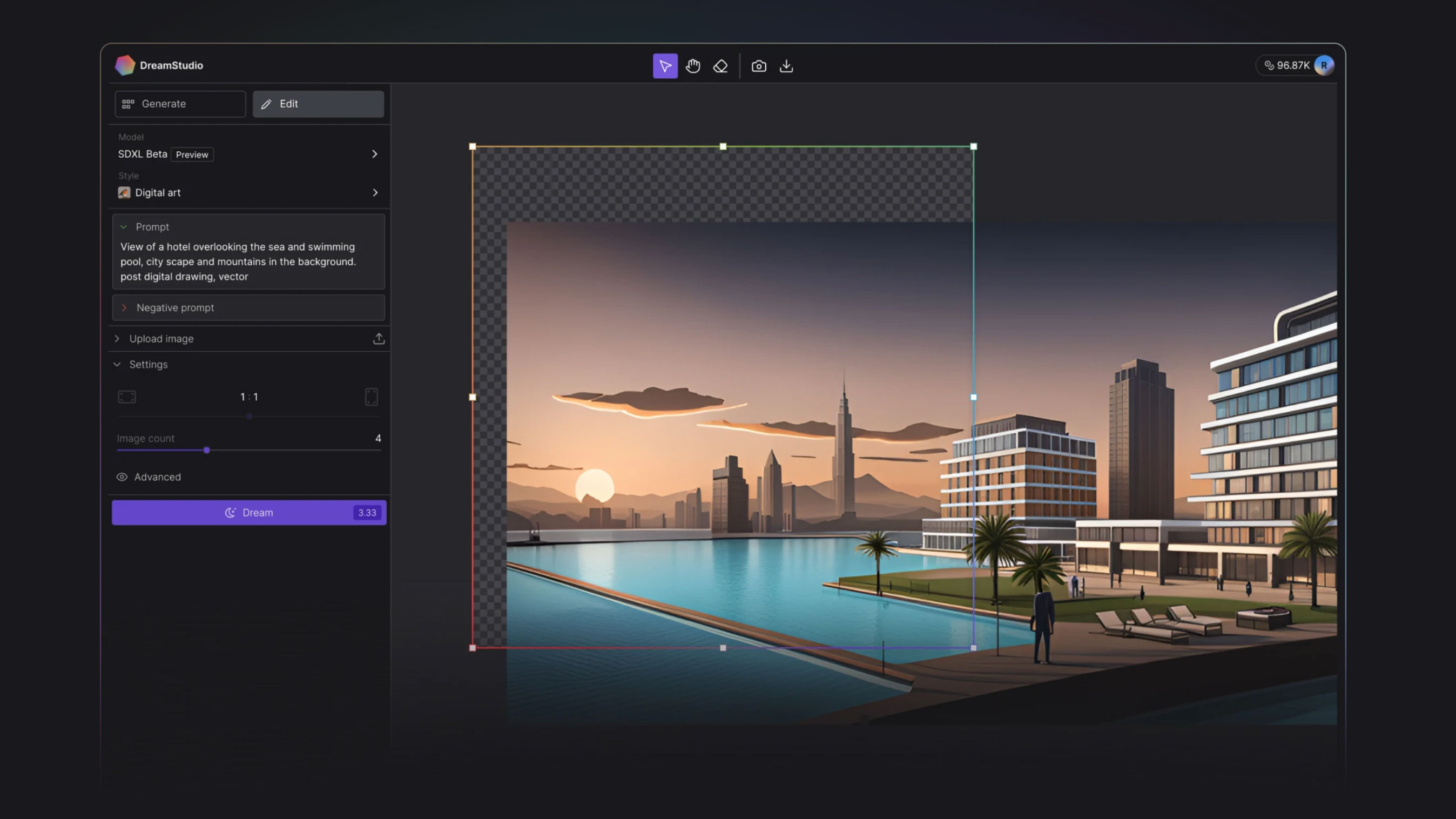 To start using Dream Studio follow these steps:
1 - Sign up for Dream Studio
Navigate to the Dream Studio website and create an account if you don't already have one, or log-in. You will need to agree the terms of service. Once you're logged in, you'll be presented with options and settings to run the Stable Diffusion model online.
Important to know: DreamStudio is a paid service. You can sign up for free, but you will be asked to purchase credits to be able to produce images after the first free-trial credits are off.
2 - Generating Images with Stable Diffusion
After accessing DreamStudio, you will be able to select basic settings and inputs for your image. Carefully craft your text input ensuring that it conveys the desired image you wish to generate. Upload a base image to create variations if you have one.
Once you have entered the inputs, click on the "Dream" button to initiate the image generation process. Dream Studio will utilize the Stable Diffusion text-to-image or image-to-image model's capabilities to convert your text into a corresponding image. Once the image generation is complete, you can preview and download the resulting image from Dream Studio.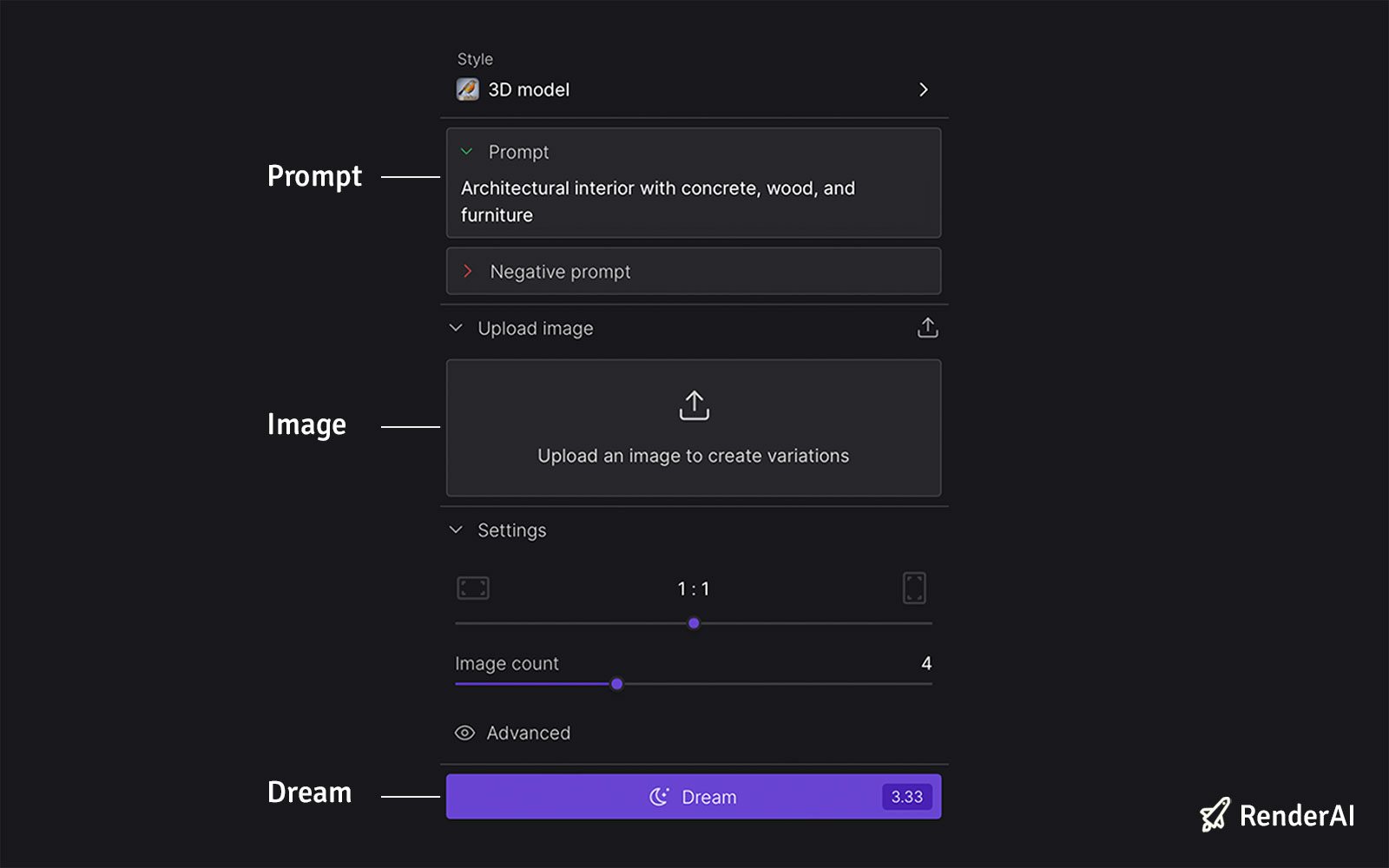 Hugging Face
Hugging Face is a popular open-source community and platform that let you build, train and deploy state-of-the-art machine-learning models. The advantage of using this platform is that you can find an official Stable Diffusion demo already set up for testing.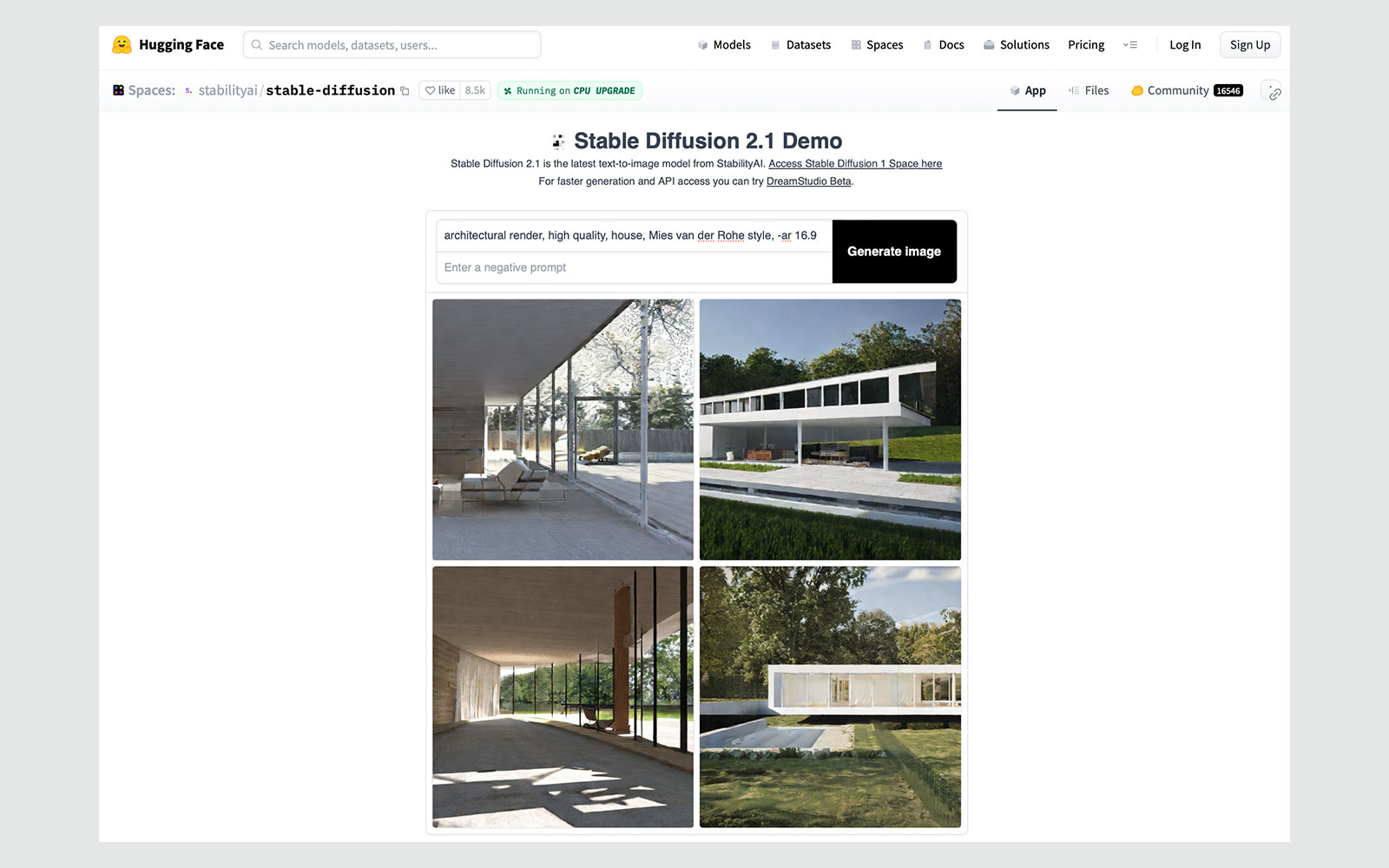 Follow these steps to leverage Hugging Face for running Stable Diffusion:
1 - Setting Up Hugging Face
You can start by just accessing the Hugging Face website. We recommend you jump directly to Stable Diffusion Hugging Face online space to try. The great advantage of Hugging Face is that you can test Stable Diffusion online without the need to log in or create an account. This allows for quick and convenient experimentation with the model.
2 - Running Stable Diffusion in Hugging Face
Once you have accessed the Stable Diffusion space on Hugging Face, you can enter your positive prompt or negative prompt and click on "Generate image" to quickly see the results.
Go to Advanced Settings to configure the Guidance Scale from 0 to 50. To know more about this topic, check out our article about AI Concepts, including Guidance Scale.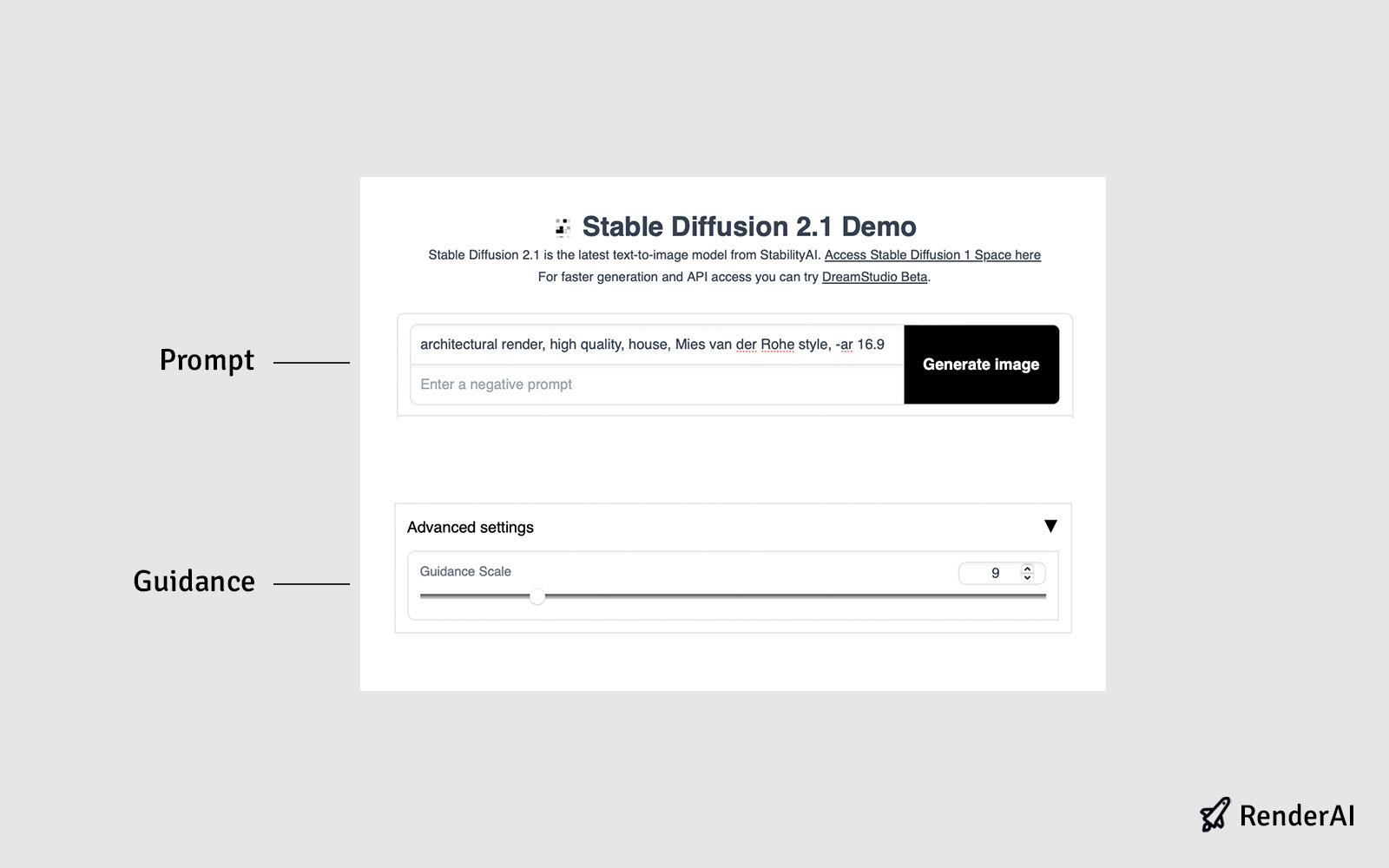 DiffusionBee
DiffusionBee is a free software you can run locally on your Mac or Windows computer to generate sketch to render images. The tool has a very easy-to-use interface and lets you access all Stable Diffusion advanced features. Easy to install and start using, but be careful! Consumes a lot of resources and will blow up your hard drive space.
Important: You need at least 16 GB of RAM and at least 8GB of free hard drive space to run your models!
Some of the features included in DiffusionBee:
Text to image. Generate an image using a text prompt. Generate any image in any style.
Image to image. Modify existing images using text prompts. Create a new image based on a starting image
In-painting. Add/remove objects in an existing image at a selected region using a text prompt.
Out-painting. Expand an image outwards using text prompts. Select a region in the canvas and add objects.
Upscaling. Use AI to automatically increase the resolution of the generated image.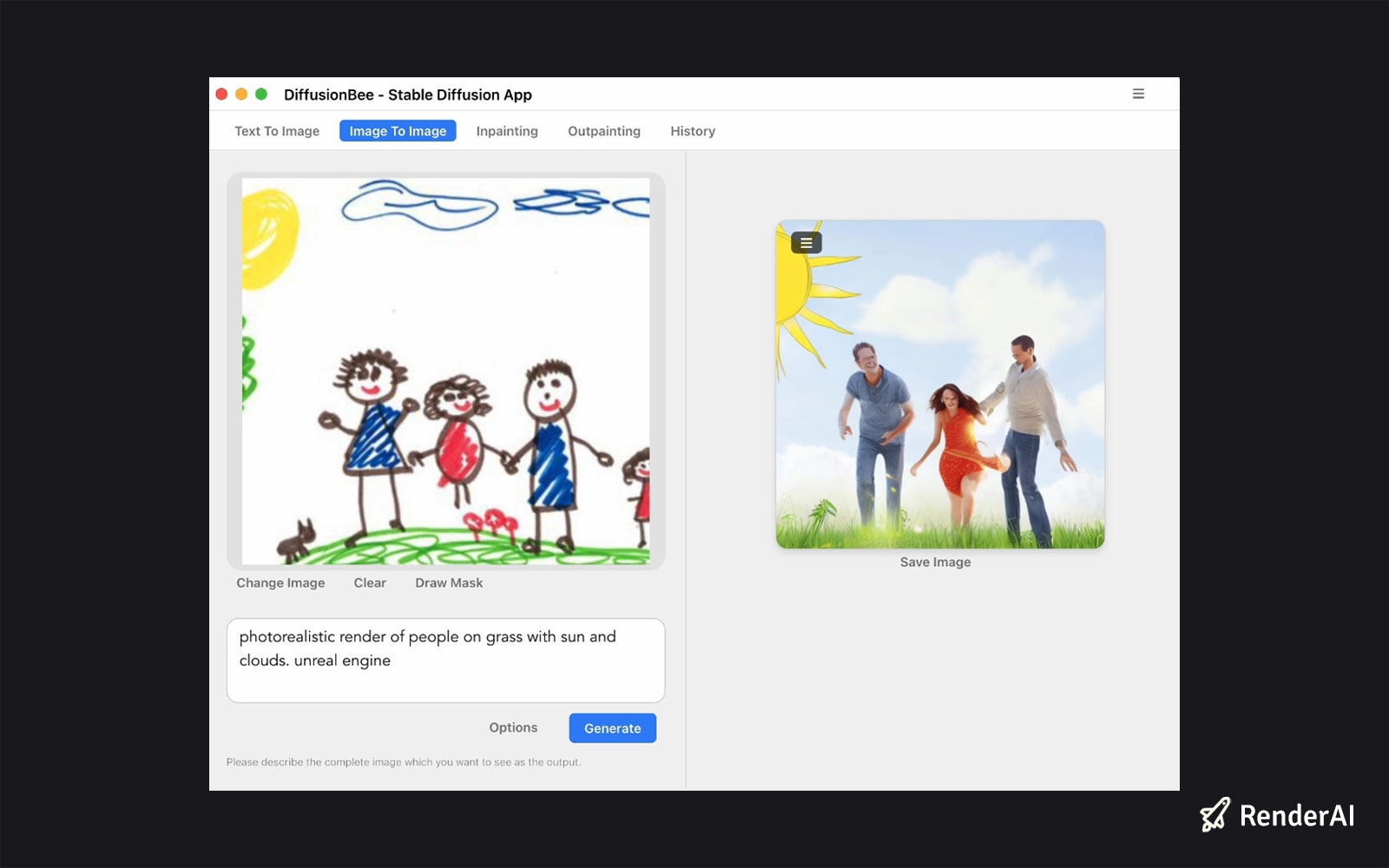 1 - Download to your computer
You can download the software to your computer from DiffusionBee website. Be pacient! This process will take several minutes to be completed while downloading gigabites of data.
2 - Running
Open the app and start working using the different tools available.
RenderAI
RenderAI is an alternative for making AI sketch to image online. This tool is still under development and will be available shortly. If you want to be one of the first to get access to it, sign up for free on the waiting list.
---